Take A Moment For Yourself

A Little Bit About Us…
If you're looking for a professional massage therapist, Amazing Hands Day Spa is the right place for you. Come enjoy a spa day in a nice comfortable environment where you can relax, breathe, let go, and live in the moment.
Amazing Hands Day Spa offers a variety of massages and body treatments that will have you feeling in a tranquil state of serenity, calmness, and relaxation.
Take a look at our spa packages, or browse our services in the menu above.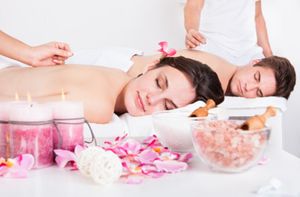 Also, if you'd like to set up an appointment, contact us! We will call you back to confirm the details of your appointment, and answer any questions you might have. Please call Amazing Hands Day Spa at 901-402-9588, Memphis, TN or 769-567-9181, Ridgeland, MS to make your appointment. We encourage you to call before purchasing any special rates, discounts, or promotions online to ensure your massage is tailored to your needs.
We specialize in therapeutic massage. We believe in the body's ability to heal itself and massage therapy is one of the many paths to restoring health and wholeness to the body. Our massage services can be tailored to exactly what your body needs. We practice integrative massage, which means we combine techniques from different massage modalities based on each client's needs. If you are a professional or amateur athlete with aches, pain or an injury, we offer athletic performance massage that can pinpoint certain areas to help the healing process. If you are involved in activities that require heavy physical exertion (manual labor, office worker or stay-at-home parent) you may find deep-tissue or Swedish massage beneficial. Perhaps you're elderly and the years have left your muscles and joints in constant pain; we offer a lighter style of massage that makes you feel young and revitalized.
10%~15% surcharge will be charged to some services for Protective …PPE
Client Intake Form
If you are a first-time client, please print this form, complete it, and bring it along to our first session.
Cancellation Policy
We understand that unanticipated events happen occasionally in everyone's life. In our desire to be effective and fair to all clients, the following policies are honored:
A credit/debit card is needed to reserve an appointment.
24 hour advance notice is required when cancelling an appointment. This allows the opportunity for someone else to schedule an appointment. If you are unable to give us 24 hours advance notice, or you no show for your appointment, you will be charged the full amount of your appointment.
No-shows
No Call within 24 hours or "no show" will be charged the full amount for the "missed" appointment.
Deposits
All deposits are non-refundable.
Late Arrivals If you arrive late, your session may be shortened in order to accommodate others whose appointments follow yours. Depending upon how late you arrive, your therapist will then determine if there is enough time remaining to start a treatment. Regardless of the length of the treatment actually given, you will be responsible for the "full" session. Out of respect and consideration to your therapist and other customers, please plan accordingly and be on time.
Payment
Full payment is expected before or after treatment. All clients, whether they have received treatment or booked an appointment, are bound by this policy without any prejudice or exemption. A gratuity may be added to any spa group of three or more.
Please understand, Amazing Hands Day Spa is a small business and our massage therapists only get paid when they deliver a service. Therefore, missed appointments without proper notice are costly for us and prevent us from being able to schedule other clients. If you are unable to keep your appointment please call 901-245-4149 at least 24 hours before your scheduled session. If you do not reach us, leave a message on our voicemail. If we do not receive a message from you and you do not keep your appointment, the above policy must and will be applied.
Listed as one of the top 3 best rated massage therapy in Memphis.